Attention all Cacao-lovers, dancing devas and pioneers in pandemonium! We invite you in all your magnificence, your vulnerability and curiosity, as we delve into new frontiers of joy, expansion and expression, through the sacred nourishment of dance, raw Cacao and togetherness.
Join Ruby May & Melissa Honeybee & for an evening of ritual sharing of high-quality raw cacao, as we allow ourselves to be moved (in more ways than one), while joyously navigating through celebration and intention.
Cacao (Theobroma cacao — "Food of the Gods") is an extremely gentle, loving, high-vibrational plant that has been used in ritual context for thousands of years as sacred plant medicine. The deva of Cacao (the consciousness and spirit behind the form) assists us in deepening our connection with ourselves, with opening the heart, allowing in the abundance of beauty that life and mama earth have to offer. It supports self-awareness, so that we can become conscious of and clear patterns or blocks that prevent us from enjoying our lives in our full potential, and from giving and receiving love freely. Cacao opens pathways to creativity and inspiration, and can be a catalyst for more joy and life-energy, lovingly aiding us in opening & healing, so life can fully flow through us.
We will use the power of dance & super-sonic music to simultaneously ground our bodies in delicious expression & celebration, and allow our spirits to soar to new states of consciousness & expansion. Dance is such a precious tool to uniquely express the emotions of being alive, a chance for one's soul to express itself: what it's like to go through this human experience, in these bodies, to release & recharge. When one is willing to open and surrender fully to dance, dancing can be experienced as an act of devotion, as a prayer to all of life, an opening to something higher than oneself.
With all of these intentions we wish to create a space held by both structure (through ritual, guided meditation & exercises), and free space to surrender to the flow of the moment, where we can really be ourselves, drop those heavy masks, the shoulds and shouldn'ts. A space where we can embrace ourselves in our entirety – our joys, our vulnerabilities, the full spectrum of our emotions – and shift into honoring our truth in every moment.
Please note: cacao in ceremonial doses is not recommended if you are on anti-depressants or have a serious heart condition.
***Advance registration only!***
To register, please send an email to Lhamo:
cacaocelebration@gmail.com
Price: CHF 55- (45- for limited income)
Location: Volkshaus Blauer Saal, 1th floor, Stauffacherstrasse 60, Zürich (near «Helvetiaplatz»)
Please bring: comfortable clothes & a water bottle
::::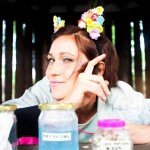 Maegan Melissa Honeybee is a devout lover of music, dancing through the spectrums of life, and all gentle passages that lead to a more open heart. Music and dance has shaped and transformed her life in magical and expansive ways: from hip hop & house, to Gabrielle Roth's 5 Rhythms, Movement Medicine, to the wild freedom of Berlin. Her relationship to Cacao is one of true love: an ally and muse and inspiration for living a whole-hearted life ♥ www.messy-magic.com
::
Ruby May is an edge-dwelling, truth-seeking, earth-loving creative visionary who weaves together her interest in conscious sexuality, authentic relating, shadow healing and spiritual ecology with her passion for ritual and magic spaces. Find out more at www.alchemy-eros.com and www.rEvolution-Elsewhere.com