"There is no power greater than a community discovering what it cares about"
-Margaret Wheatley
The Know Your Flow Collective:
A sanctuary for womb-led rebels & revolutionaries
We are an international community of women* who are supporting each other to come home to the inner guidance system of our bodies and foster a culture of living in radical integrity & balance.
We're tired of living in a culture in which our worth is measured around how productive we are and nothing ever feels like enough. Where stress, numbing ourselves and bypassing our body's symptoms are so normalized and creativity and play feel like elusive luxuries. And where intelligence is seen as something abstract in our heads, removed from the deep feeling, sensitivity and wisdom of our hearts and bellies.
We don't want to be bystanders and continue the status quo.  And we're ready to be part of the solution.
Through coming into connection with our bodies & our cyclical nature, we become culture-creators: helping to midwife a world that is more aligned to natural rhythms, so we can remember what it is for all of life to thrive. 
It's not easy going against the grain. Which is why we need each other.
And we're inviting you to join us!
*Know Your Flow is open to anyone with a womb that is cycling, no matter what your gender expression or sexual orientation. Most of our members identify as 'woman' and yet we welcome diversity and are always wanting to learn more about how to be inclusive in our language, our minds and hearts. We have a zero tolerance policy around aggression.  
Participation in the online course, giving you 13 weeks of content, delivered to your inbox. One video a week, which you choose depending on where you are in your cycle.
Specially crafted to give you the right amount of information, without overwhelm (and you'll also have life long access!).
We have weekly co-working & cyclical business sessions that you can drop in to. Come and work on your projects and deepen your practice of working cyclically!
Access to weekly drop in Community Calls.
Wednesdays, alternate weeks at 12pm in Berlin (11am in London,  16:30 in Delhi) and 8pm in Berlin (7pm in London, 11am in L.A) for 75 mins.  
The community calls are a real key to bringing cycle awareness to life and staying on track, as we come into relation with one another and receive nourishment and inspiration through sharing what we're currently experiencing in our cycles. Beyond this, they are also opportunities to practice important skills such as deep listening, mirroring, speaking our truth and being seen.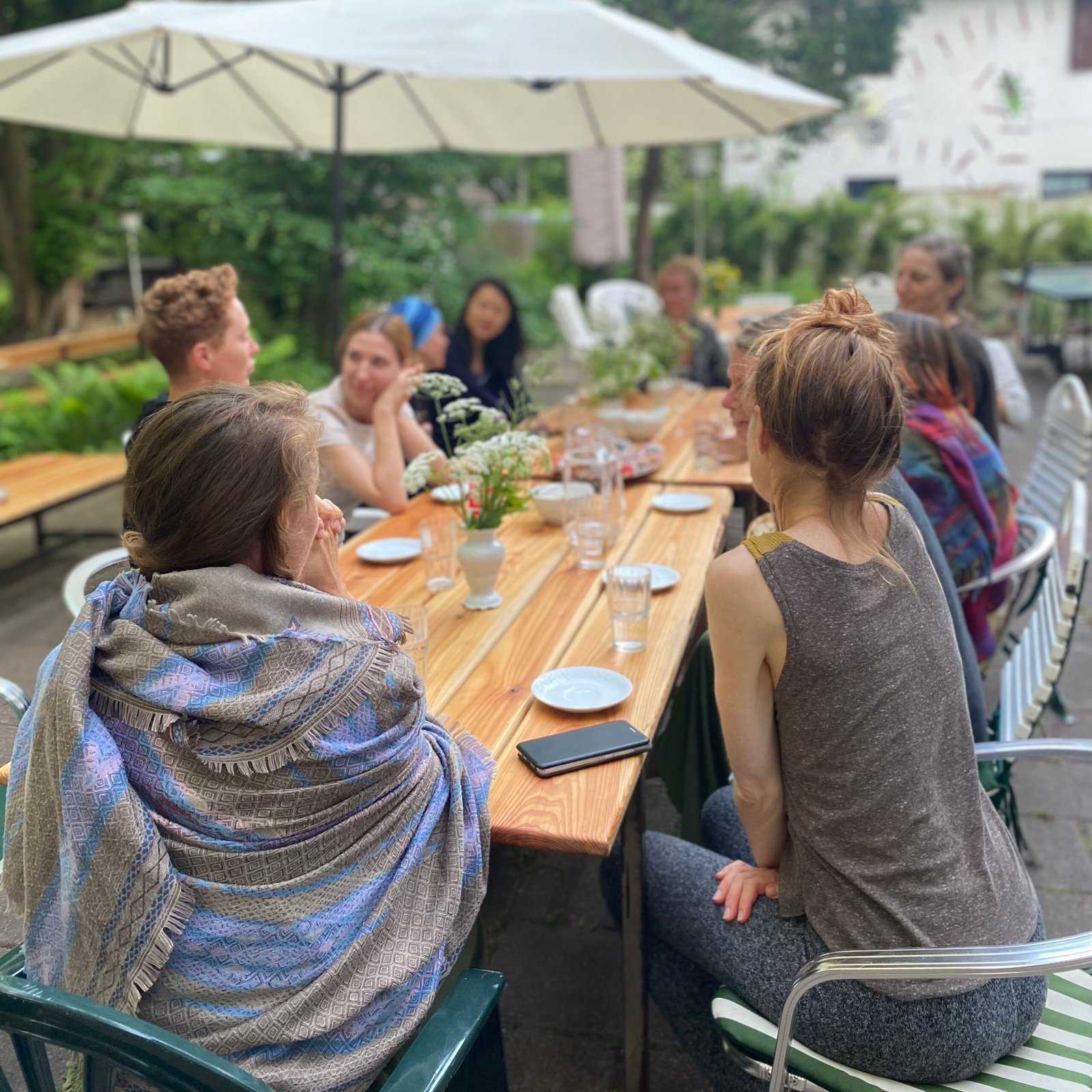 You'll receive an invitation to come and join our next annual in person summer gathering outside Berlin from June 12th – 16th, 2023.
Monthly Learning Sessions (Wednesday evenings for 90 mins) offer a possibility to continue learning & growing together through inviting a variety of guest facilitators to share their medicine with us (see below).
You also have access to videos of all past learning sessions.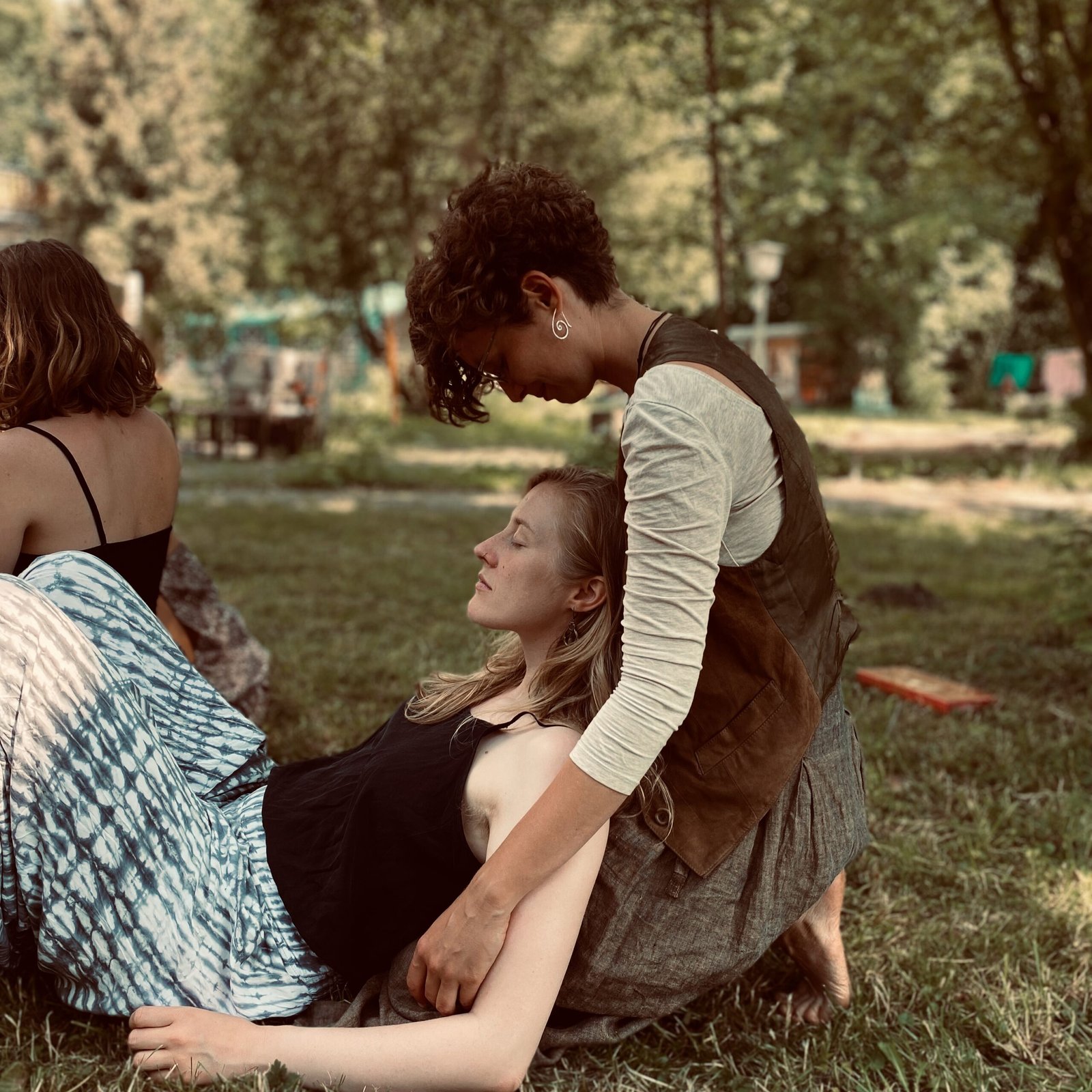 If desired, you are invited to form a listening partnership with another member, where you can organize regular shares. This can be especially helpful if you're not able to make as many of the community calls as you would like.
The Know Your Flow Collective is for you if you…
* are ready to revolutionize your relationship to your body & use your menstrual cycle as your guide & ally for balancing your energy and living and working in alignment and flow
* are committed to connecting to & honouring your own needs and boundaries
* feel tired of feeling guilty for resting,  rushed and like you're often skimming the surface. You want to carve out a different way that welcomes more integrity, depth, creativity & play!
* want to feel less alone in your journey and be inspired and held by the power of community of fellow pioneers
* are intuitively drawn to learn about the Feminine and its role in activism on our planet, through your own felt and embodied experience
* want to be the change you wish to see in the world and become part of a growing silent revolution of heart & womb led rebels & revolutionaries!
Being a member of Know Your Flow is not just about acquiring new information, but a portal to a new way of perceiving, connecting, appreciating and living my life.
But the most important part for me is knowing that I'm not alone on this journey, but supported and witnessed in a very real and tangible way by a vibrant community of women walking, skipping, stumbling, crawling, dancing on this path right alongside me. 
Know your Flow has been life-changing  for me. It taught me to listen to my body and her wisdom instead of just optimising her to function.
Doors are currently closed and open again in January 2023
Womb Poetry
with Brooke MacNamara
September 14th 8pm CEST (7pm GMT+1)
Appreciated for her capacity to transmit the sacred through accessible and digestible pieces of poetry and teaching, Brooke MacNamara's work is an emanation of her core longing to awaken, play, learn, and feed the soul.
A retired dancer & choreographer, an ordained Zen monk and mother of two, Brooke has published two poetry books, Feed Your Vow and Bury the Seed.
During this session, Brooke will be supporting us to tap into creativity with words and use our cycle as our muse.
Yoni Mapping
with Simona
October 19th 8pm CEST (7pm GMT+1)
Simona is a femme massage practitioner and embodiment facilitator, whose mission and dedication is in supporting people to (re)connect to their womb space and Yoni (sancrit: the womb, the "source", the female sexual organs).
In this session she will give a short introduction of the female body's anatomy and the uniqueness and beauty of the vulva and then guide us through a meditative and empowering hands-on practice: the mirror-session – discovering your vulva with awe and admiration & the yoni-mapping – exploring your vagina in a consensual, loving and curious way, forming new bonds and rooting deeply in the female beings that we are.
The Work
with Geetje Couwenbergh 
November 19th 8pm CET (7pm GMT+1)
Geertje Couwenbergh is a writer and innerpreneur based in the Netherlands. She authored five Dutch books and has been teaching embodied writing workshops for over a decade. She owes her sanity to The Work© of Byron Katie and is excited to share this process and method of enquiry with us. The Work supports a tapping into the wisdom that lives inside us, and breaking free from unneccessary suffering. 
Winter Solstice Ritual
with Ruby May
December 14th 7pm CET (6pm GMT+1)
An invitation for a mini retreat to utilize the potential of the energies of the Winter Solstice. You'll receive some journaling questions and prompts in advance with suggestions for simple activies and rituals. During our evening gathering there'll be time to reflect together on the larger cycle and year we just had, where we are now and how it is to be present and surrender to the darkness and magic of this time.
There is something remarkable that happens when women get together and mirror each other in our strengths and vulnerabilities. We start trusting ourselves a little more. We show up a little more. And the world is asking – no, demanding –  exactly this of us.
The best of it all is the constantly growing web of sisterhood with an always accessible safe space to share, reflect and inspire, be inspired. Ruby's brilliant expression and creativity make the learning process pure joy and extra juicy.
I used to join the community calls and view them as a 'nice' thing to do when I had time. But then I started to notice they have become more like a resource; a resource for strength and growth, for connection and communion, for inspiration and elevation. I made a conscious choice to show up for myself and for the group, and by letting that be part of my experience, I notice significant changes in the way I show up in the world.
Every time we connect, I grow. We learn from each other within the group and from those outside of the group that are invited to share their rich experience and expertise about topics like cyclicality, bodywork and sexuality. All of this knowledge then seeps into the world through my own (inter)actions.